Deodoriser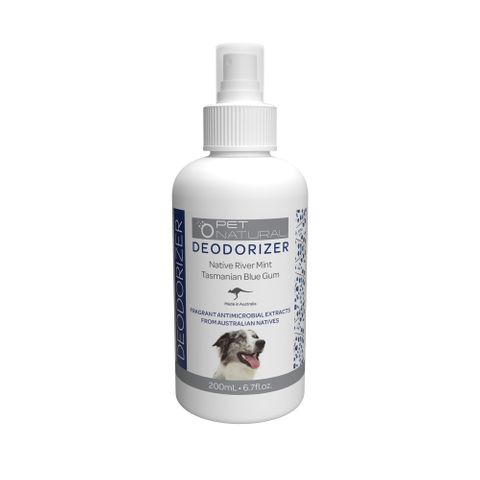 Description
200ml Spray Bottle
FRAGRANT ANTIMICROBIAL EXTRACTS FROM AUSTRALIAN NATIVES
Native River Mint
Tasmanian Blue Gum
The unique combination of Australian Native River Mint and Tasmanian Blue Gum create a world class deodorizer. Both species possess well documented antimicrobial properties (inhibiting odour creating bacteria) with refreshing and unique fragrances.
APPLICATION: Mist your dog liberally at any time between baths for a quick on-the-go refresher. For dogs that require extra odour control, wash your dog with Pet Natural's Odour Eliminator Shampoo and mist with deodorizer after drying. Avoid misting directly into eyes.
INGREDIENTS: Purified Water, Ethanol, Peg-40 Castor Oil, Fragrance, Sodium Bicarbonate, Panthenol (Vitamin B5), Native River Mint (Mentha Australis) Extract, Tasmanian Blue Gum Extract, Phenoxyethanol, Caprylyl Glycol.